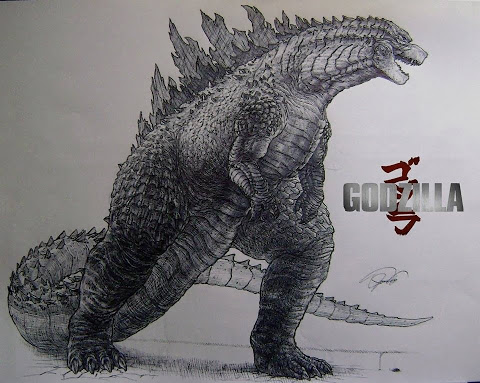 Godzilla 2014 starts off really well. It's dark, serious, and moody in tone, it explores an intriguing and eerie mystery for the initial third of the movie, and it seemingly provides a slow and thoughtful build-up of tension to an implied payoff of epic monster battle.
The issues begin - sadly - soon after the various monsters are fully revealed for the first time. The essential problem boils down to this: the story then wants to maneuver the monsters and humans into a climactic battle and yet that maneuvering is increasingly contrived and implausible. Plus they keep a pretty tight lid on the monster action while that's happening, so what started as a a slow and dramatic build-up becomes simply slow. And when the climactic battle that they bent over backwards to facilitate actually happens? Eh, no big surprises there.
Godzilla may be the king of monsters but Pacific Rim is definitely still the king of monster movies!
Update:
If you're interested in some more details, here's a spoiler-heavy rundown that you can decrypt using copy & paste at http://www.rot13.com
ENCRYPTED SPOILERS BELOW
Guerr zbafgref ner pbairetvat ba Fna Senapvfpb naq vg ybbxf yvxr gurl'er tbvat gb trg va n svtug. Gur zbafgref ner nggenpgrq gb enqvngvba nf n sbbq fbhepr, fb gur nezl qrpvqrf gb genafcbeg gjb ahpyrne obzof gb gur Cnpvsvp bprna, yher gur zbafgref gurer, naq gura qrgbangr gurz. Gur zbafgref unir na RZC nggnpx fb gur nezl qrpvqrf gb fuvc gur ahxrf gb Fna Senapvfpb ol genva. Gurl nez gur ahxrf jvgu znahny gvzref gung nera'g ihyarenoyr gb RZC naq fgneg gur gvzref.
Gur znva thl fbyqvre qhqr jub vf geniryyvat jvgu gur genva pnyyf hc uvf jvsr va Fna Senapvfpb naq gryyf ure gung ur'f pbzvat gb trg ure naq gurve fba.
N zbafgre ubzrf va ba gur gjb ahxrf zhpu rneyvre guna rkcrpgrq. Vg rngf bar bs gurz naq yrnirf gur bgure bar fvggvat gurer sbe fbzr ernfba (!). Gur nezl syvrf va n uryvpbcgre gb genafcbeg gur bgure ahxr gb Fna Senapvfpb (juvpu gurl fubhyq unir whfg qbar va gur svefg cynpr?!).
Fna Senapvfpb vf orvat rinphngrq gb fnsrgl ohg gur fbyqvre'f jvsr ershfrf gb rinphngr orpnhfr ure uhfonaq fnvq ur'q zrrg ure gurer. Fur chgf gurve fba ba n genafcbeg gubhtu.
Gur uryvpbcgre jvgu gur ahxr znxrf vg gb Fna Senapvfpb, ng juvpu cbvag gur ahxr vf tenoorq ol bar bs gur zbafgref. Gur zbafgre ohevrf gur ahxr haqre gur pvgl nf n gnfgl fanpx sbe yngre. Gur zbafgref fgneg svtugvat.
Gur nezl ernyvmrf gung univat na nezrq ahxr ba n gvzre ohevrq haqre gur pvgl vf onq arjf, fb gurl ebhaq hc gur erznvavat fbyqvref gb tb ba n fcrpvny zvffvba: gb cnenqebc vagb pvgl, svaq gur ahxr, naq qvfnez vg.
Gur zbafgref svavfu gurve svtug naq gur nezl znantrf gb cerirag gur obzo sebz oybjvat hc gur pvgl.
Gur fbyqvre thl unf orra jbhaqrq va npgvba naq vf gnxra gb gur pvivyvna furygre. Ur unatf bhg jvgu uvf fba naq gurl obgu ubcr gung zbz vf bxnl. Vf fur? V jba'g fcbvy gung cneg sbe lbh!
Vg'f abg n fgergpu gb fnl gung gur uhznaf va guvf svyz qvqa'g ernyyl QB nalguvat. Gurl ena nebhaq perngvat ceboyrzf naq gura fbyivat gur ceboyrzf gurl perngrq, nyy bs juvpu unq ab vzcnpg be rira erny vaibyirzrag jvgu gur zbafgre onggyr.